During week 5 at school lots of the students in P1C and P1D went on their first camp ever at Illawonga which is near Swan Reach. I personally have learnt a lot from camp, like some history from the 1990's and even about yabbies. My favourite part about the camp was especially the boat ride and we even got splashed along the way. I learnt about numbers that they put along the banks of the Murray River so that if someone's engine stops working, they could just make a call and tell them what number they were at. Also the boat instructor Shona also did something called donuts. Basically donuts are when you ride in circles in a very fast speed and that's the part where you get very wet. Overall it was such a great experience going on the boat and going to camp.
By Vanessa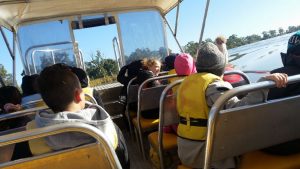 My favourite part of my experience at Illawonga Camp was the archery. It was great. My friend Zahli had her first shot at archery and she loved it. We each got twelve shots and on my second to last shot, I got a bullseye and it was really exciting. Our instructor Sarah taught us how to hold a bow and how to put in an arrow. Each group had six people in it. It was a really exciting activity.
Before archery we did the safari trailer ride and we stopped at lots of interesting places. We stopped at an old ruin first. This was an old house with a stable and we had to search and find things that included fossils, rocks, plants and other disgusting stuff you really wouldn't want to know about. Next we stopped at a wombat burrow and Sarah tricked us into thinking that a girl named Lexi picked up a wombat and then she threw it in the air saying that it bit her and we found out that it was actually a fake toy cuddly wombat. Funny, right?
It turned out that this was the best camp EVER!
By Bronwyn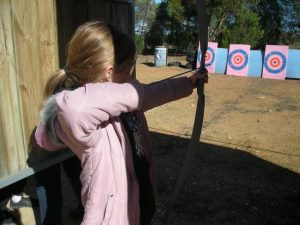 Yabby Farm
At the Yabby Farm you had to use a pole with string and bait on the end. You also used a net. The water was not very deep at all. We were split into groups of seven. They taught us how to cast and bring it back in. I caught two at the same time! At the end, the team with the most yabbies got to put the covers back on so that the yabbies stayed warm. Then we did a quiz about yabbies and other fish in the river. I learnt a lot about the different ways you can catch yabbies and that yabbies can be different colours and when they moult their shell is really soft. We all had a really great time that day.
By Brandon
In the gym we sat down to take our shoes and socks off and then we were told the rules. No running, no fighting or no jumping on people, oh and wait for your turn and no flips into the foam pit. Next we stood on the edge of the foam pit and then on the count of 3 we jumped in but then it got to be more fun because we were told to throw the foam blocks at the parents and teachers. Next we put the foam blocks back in and we got into groups and we did an obstacle course and we were allowed to do flips on the rings and a bar. We did everything there which was so much fun and we did a race at the end through the foam pit and i lost the first round but we ended up with a winner. It was the best camp ever because it was so so much fun!
By Ethan D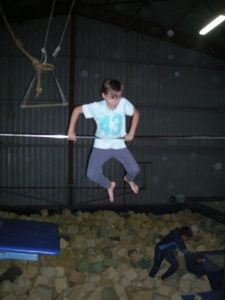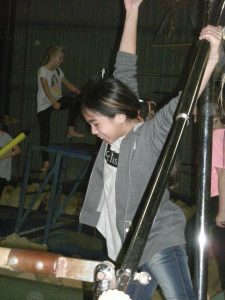 Caving
Illawonga camp was awesome but if I had to pick an activity to write about I would pick caving and tent making. Josef helped us throughout the cave. To get there we went on a boat and on the boat a dog was our GPS the dog's name was Misty. She is black with a bit of white. The cave was well hidden and it was freezing outside but in the cave it was boiling. The cave was very sandy and orange. The first thing we did was stand silently in the dark for 30 seconds which was hard for some of the boys but eventually we did it. I was counting in my head but I must've counted slowly because by the time I got to 28 Josef yelled 30, BOO! and turned on the lights. Then we went deeper into the cave to go fossil hunting. I found three but we could only keep one so I kept a heart shaped sea urchin. On the way out we had two choices, the easy way out or the hard way out. I picked the hard way out but it was so much fun! After caving we made tents out of sticks against trees. My group found a long stick that we butted up against the tree with the help of my Dad to make a backyard. We were given a 5 star entrance to our tent well as another 5 stars. Overall this camp was amazing and you will definitely have fun if you go.
By Mieka