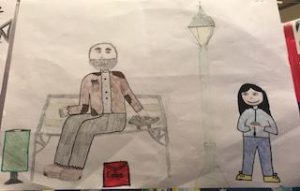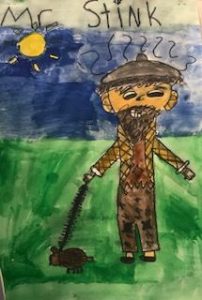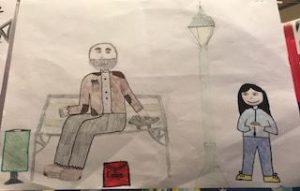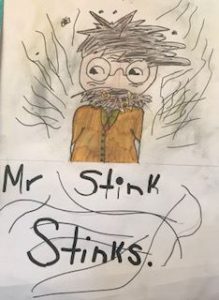 Recently P2C and P2D went on an excursion to watch a performance of a book they had read as a class- Mr Stink by David Walliams. Above is some great artwork and below are two reviews of the performance by Year 4 students.
Mr Stink Review 
Mr Stink is a wonderful show and is now showing at the Dunstan Playhouse. It is based on the fabulous novel written by David Walliams. Before you go to the show make sure you read the spectacular book so it all makes sense.
There were lots of great parts in the show but my favourite part was when Chole found dad under the stairs. I thought it was very cool how they changed all of the sets from one room to the other room. The characters were Chloe, evil Annabelle, Mr Crumb, Mrs Crumb, Mr Stink, Duchess, reporter, Prime Minister, Melissa Anderson and Alison. The costumes were awesome.
I would rate this story a four out of five. I would recommend this to a family with little kids. Tickets are on sale for only $10! Hurry tickets are selling fast. It is a great show!!
Mr Stink
Mr Stink is a great new show held at the Dunstan Playhouse. The show is based on the hilarious book written by David Walliams.
The show is about Mr Stink (a tramp) who lives on a bench and a girl Chloe (who shows him the kindness he needs).
It was a great show and I would recommend it for children under the age of 12. The show is also great for families with younger children.
I thought the sets were amazing! It was clever how they moved around.
The actors were fabulous and interesting in their own ways. It was unique how some of the actors played more than one character.
The costumes looked really good and were designed amazingly well! There were some special effects that made the audience wow! The show was five star rating for most of the audience.
Come see the show! Is great and you will NOT waste your money! Tickets out now! You won't regret it.