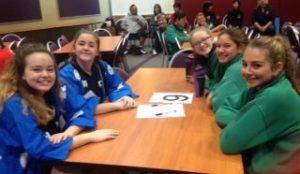 Japanese learning and a pride in our students at Keithcot Farm Primary School was on  full display at the Hindmarsh Education Department Centre on June 20th. Twelve of our Year 6/7 Students  participated in the annual Japanese Language Teachers Association of  South Australia Year 6/7 Quiz.  Over 114  SA students enjoyed teaming up with different schools and sharing in a fun Japanese Quiz Day.
Quiz categories varied from Hiragana, Kanji and Vocab to Modern Culture, Traditional Culture, Geography
and a Listening Section. The score results showed amazing skill and knowledge by our students as well as some challenges which allowed for new experiences and further learning. One of our teams placed 3rd in the competition.
A fantastic effort to all students and a big thank you to our parents who volunteered their time to transport our students to this event.
Hanna Sensei/Wallace Sensei