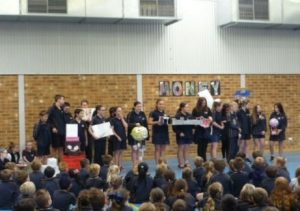 A big THANK YOU to everyone for their contribution to Book Week 2017!
We had a "Super Duper" Performance, a visit by well-known author and educator Mike Dumbleton and an Assembly Parade where students got to share their classes specially chosen shortlisted book and dressed accordingly. There were some magnificent outfits including crows, seagulls, pigeons, koalas, beachgoers, convicts, cars …… a lot of thought went into the creations and it was fabulous seeing students making connections with their reading.
The shortlisted books are now available to borrowing/reserving.
Remember …  your reading provides a way to:
"ESCAPE TO EVERYWHERE"!